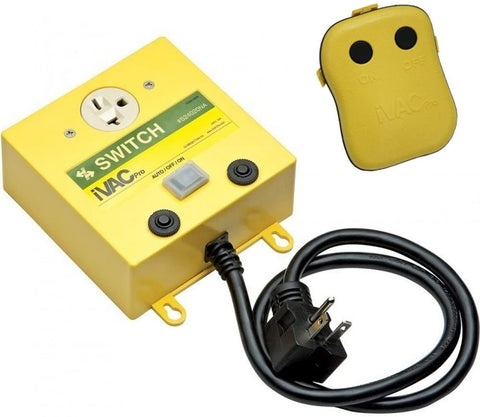 iVAC Pro Remote Switch 240Vac, 20A Refurbished
This is a Refurbished product.
Lets you control your shop vacuum or dust collector at the press of a button. Works with dust collectors up to 2.0HP@240Vac. Expandable to a complete iVAC Pro system including Tool Plus sensors, Blast Gates and other iVAC Pro peripherals.
Automate Your Dust Collector with the IVAC Pro Dust Collector Remote Switch!
The only expandable dust collector remote control switch on the market. Lets you grow into a complete iVACPro system. And it's capable of reliably driving 1.5HP (115V) and 2HP (240V) dust collectors. Now that's power!
Now you can automatically turn on your dust controller with the press of a button.
20 Amp operation
2 versions available – for dust collectors up to 1.5HP@115Vac or 2HP@240Vac
UL/CSA approved
Expandable to a full iVAC Pro system
Introducing the iVAC Pro Remote Switch – the latest in iVAC's growing family of automated dust control products. This simple to use dust collector remote lets you control your shop vacuum or dust collector at the press of a button. Installation is easy, and you'll be pleased with how it helps simplify dust and debris pick-up, while mitigating airborne dust while operating a tool.
While there are several adhoc solutions to automated dust control, iVAC properly  engineers quality and safety into its products to ensure satisfaction:
Fully approved
The iVAC Pro Remote Switch is fully tested and approved by TUV to UL and CSA standards [UL60950-1 and CSA C22.2 60950-1]. It is also registered by the FCC and Industry Canada (IC) [FCCID-YCH-IVACPRO, IC  8940A-IVACPRO].
Robust Wireless Communications
iVAC products use a robust digital wireless system that is less prone to interference, as opposed to off-the-shelf transmitters.
Built Tough to Last
Our specially designed circuitry can handle running currents of 20 Amps and peak switching currents of 80 Amps. For example, when a 1.5HP 115Vac Dust Collector is turned on there is an initial surge current of up to 75 Amps. Lesser systems will either trip a circuit breaker, blow a fuse or break down. What's more, repeated usage tends to wear down the mechanical relay components and can lead to the failure of a less robust product. iVAC products are built tough, and built to last!
Handles Large Dust Collectors                
Works with dust collectors up to 1.5 HP at 115Vac and 2HP at 240Vac. Need even more capability? Our iVAC Contactor can handle dust collectors up to 10 HP!
Adaptable                                                  
An adaptor cable is included to allow a standard 115Vac-20A plug to be connected to a standard 115Vac-15A outlet – for dust collectors with less than 15A running current.
Expandable
When you're ready to grow, so is iVAC. It's compatible with our iVAC Pro line of automated dust collector products. With typically up to 8 tools under your control iVAC Pro  can help you automate dust collection in most any workshop.
Features
Fully certified and approved – features TUV safety approval and conforms to UL STD 244A and certified to CSA STDC22.2 No 14
Heavy duty design for 20A operation

2 versions, for dust collectors up to 1.5HP@115Vac or 2HP@240Vac
Handles up to 80 Amp start-up surges (1.5HP@115Vac version)
Turn On Delay of 1.5 seconds avoids circuit breakers being tripped
Turn Off Delay – ensures that your work area continues to be cleared of remaining airborne debris even after the tool has stopped. Programmable for 5, 15 or 45 seconds
Uses high quality digital wireless system with 40 foot range
Package Contents
iVAC Pro Switch
iVAC Pro Remote
Adapter cable to allow a standard 115Vac-20A plug to be connected to a standard 115Vac-15A outlet – for dust collectors with less than 15A running current
---
We Also Recommend